Sold Out
22PFFB1 - 2022 FLAWLESS FOOTBALL SINGLE BRIEFCASE RANDOM TEAMS BREAK
$ 249.00
Brand Monster Breaks LLC
This product is unavailable
30 Spots sold in the break! There will be 2 combo spots, combo teams TBD. This breaks in our closed Facebook group tomorrow September, 20th 2023. 
When it comes to sports cards, sometimes "gem" is used for a top-condition grade. For 2022 Panini Flawless Football, the gems are found in many of the cards. The luxury line returns with top-end elements like all on-card autographs, lots of premium swatches and small print runs for individual cards.
—————————
Hobby boxes, which come packaged as a briefcase, have six autographs and at least two memorabilia cards. Every card in the product has no more than 25 copies.
The Flawless base set is one of the rarest in the industry. Versions include Ruby (/20), Sapphire (/15), Diamond (/10), Emerald (/5), new Black Diamond (1/1) and Platinum (1/1).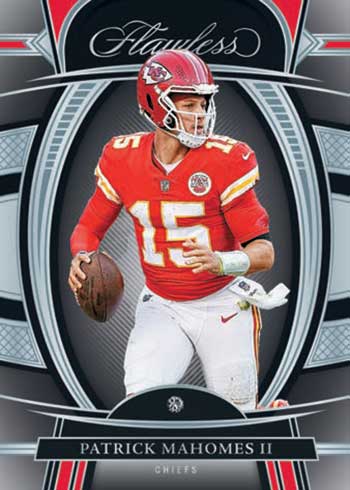 Another spot on the checklist for jewels is Rookie Gem Signatures (/20 or less). Like all autographs in the product that aren't cut signatures, ink is on-card. Parallels include Sapphire (/15), Diamond (/10), Emerald (/5) and Platinum (1/1).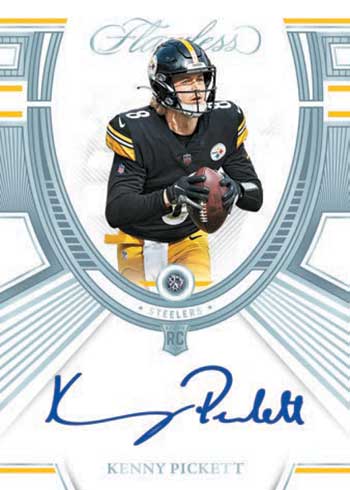 Rookie Patch Autographs max out at 25 copies each, although Silver (/20), Ruby (/15), Sapphire (/10), Emerald (/5) and Platinum (1/1) versions are in the product as well.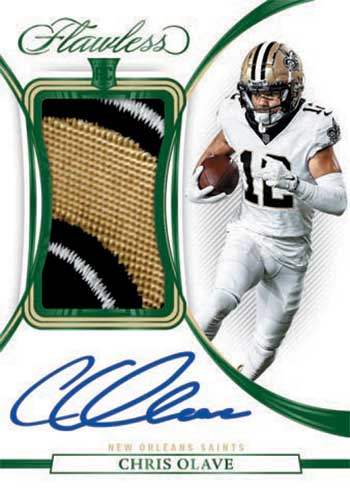 The 2022 Flawless checklist has autographs from more than just rookies. Veterans and past players both star in several areas.
Champions (/25 or less) features players who have starred on two, three or four Super Bowl-winning teams.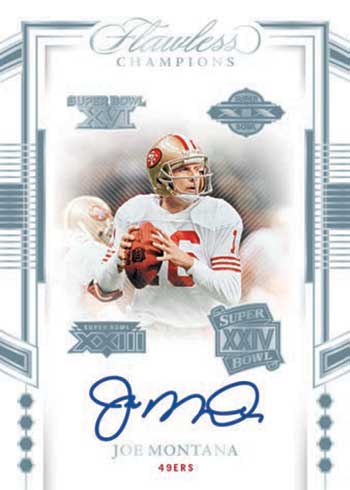 Flawless Frame Signatures and Rookie Frame Signatures are two of the product's insert debuts. These have a greater emphasis on action photography to compliment the autograph.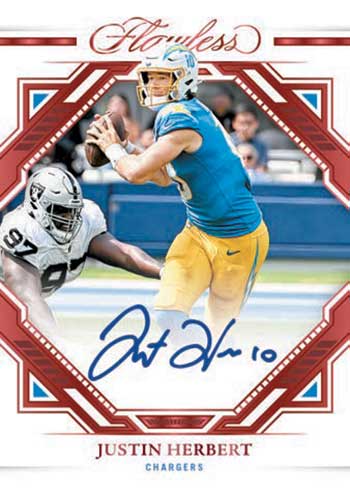 Greats (/25 or less) is all about delivering ink from some of the NFL's all-time legends.
Penmanship of past and present pairs are the feature of Flawless Dual Autographs (/25 or less).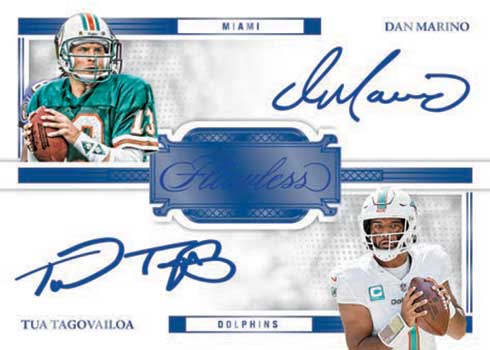 Book card autographs come in several forms in 2022 Flawless Football including Flawless Duals, NFL Shield, Rookie Booklets, Signature Gems, Super Bowl Gems, Veteran Booklets, and Red, White and Blue Autographs.
Dual Patch Autographs (/25 or less) are another place to find signatures and swatches, in this instance a pair of premium pieces.